Coastal Georgia Regional Highlights
The Coastal Georgia Region covers the lower portion of five major river basins, including Savannah, Ogeechee, Altamaha, Satilla, and St. Marys Rivers. The Coastal Georgia Region encompasses several major population centers including Brunswick, Hinesville-Fort Stewart, and Savannah. The Coastal Georgia Regional Water Planning Council meets regularly between plan updates to discuss ongoing implementation of the plan, outreach to interested stakeholders, and hear the latest on water issues affecting the Region. Below is a summary of ongoing activities.
Regional Water Plan Seed Grants
Regional Water Plan Seed Grants provide competitive funding annually to support and incentivize local governments and other water users as they undertake implementation of the Regional Water Plan. The Grants require cash and in-kind match, and have a maximum project amount. Additional information about Seed Grants may be found at EPD's website: SEED GRANTS.
RH.jpg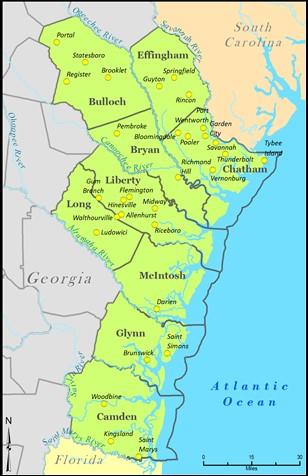 During the 2018 seed grant cycle, the University of Georgia College of Agriculture and Environmental Sciences (UGA CAES) was awarded a seed grant to integrate cooperative extension county agents in the promotion and implementation of multiple agricultural management practices within the Altamaha, Coastal Georgia, and Suwannee-Satilla Water Planning Regions. Updates on the seed grant work can be found at: UPDATES.
Previous seed grants awarded within the Coastal Georgia region include a two-phase project through the University of Georgia on "Estimating Ability of Georgia's Estuaries to Assimilate Nutrients Delivered to Coastal Zone" the first phase on water column sampling was awarded during the 2010 grant cycle, while a second phase focused on fluxes from sediments was awarded during the 2015 cycle.
Outreach Activities
Members of the Regional Council participate in outreach activities to increase knowledge and understanding of the Regional Plan. The Council split the Coastal Georgia region into four different sub-areas for targeted outreach meetings. The outreach meetings took place between January and April 2019 with many stakeholders attending the series of meetings.
Coastal Georgia Regional Highlights - Related Files
Regional Newsletter and Fact Sheet
EPD collaborated with the planning contractors and Council Chairs to create a newsletter to keep Council Members updated on the work that was underway during the 2020-2023 Regional Water Plan Update. Topics covered include updates from EPD, planning process and resource assessment overviews, forecasting results, and funding updates. Newsletter editions may be released on a quarterly basis or after Council Meetings, as appropriate. The 2023 Fact Sheet was developed to capture the highlights of the 2023 Regional Water Plan Update. The released newsletters and fact sheet can be found below. 
Coastal Georgia Region Newsletter