Middle Ocmulgee: Regional Water Plan
The Middle Ocmulgee Regional Water Plan was initially completed in 2011 and subsequently updated in 2017 and 2023. The plan outlines near-term and long-term strategies to meet water needs through 2060.
Middle Ocmulgee Regional Water Plan
Background
The Middle Ocmulgee Region includes 12 counties in the central portion of Georgia. Over the next 35 years, the population of the region is projected to increase from approximately 586,190 to 770,960 residents. The region's leading economic sectors include government, health care, service industries, and agriculture. Water supplies, wastewater treatment, and related infrastructure will need to be developed and maintained to support these economic drivers.
Ocmulgee-plan.png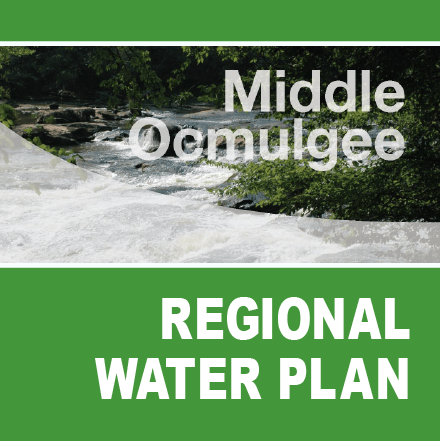 Groundwater is forecasted to meet about 72% of the region's water supply needs, with industrial and agricultural uses being the dominant demand sectors. Surface water resources are expected to meet the other 28% of the forecasted water supply needs, with municipal, industrial, and agricultural as the dominant demand sectors.
Water resource challenges in the region include potential water quality issues associated with excess nutrients into Lake Jackson and non-point and point source discharges into impaired streams.
Management practices needed to address these challenges include water conservation, enhanced pollution & non-point source management in existing impaired streams, and development of local wastewater master plans to evaluate wastewater treatment and disposal options.
Useful Links