Middle Ocmulgee Region at a Glance
Background
Middle-Ocmulgee_High-Falls-State-Park_300x200.png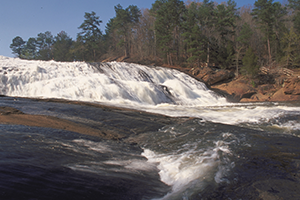 The Middle Ocmulgee Regional Water Plan was initially completed in 2011 and subsequently updated in 2017 and 2023. The plan outlines near-term and long-term strategies to meet water needs through 2060. Major water resources include the Flint, Ocmulgee and Oconee River basins and approximately 76 percent of the region lies in the Ocmulgee River Basin. Major population centers include the cities of Macon, Warner Robins, and Covington.
Key Water Resource Issues Being Addressed by the Council
Effects of Metropolitan North Georgia Water Planning District withdrawals and discharges, as well as land use, on tributaries of Lake Jackson.
Future water supply sources for areas above the Fall Line.
Zones of possible low dissolved oxygen in the lower Ocmulgee River and tributaries.
More efficient use of water in the region.
Middle Ocmulgee Region at a Glance - Related Files
Middle Ocmulgee Region at a Glance - Related Files