Coosa-North Georgia Region at a Glance
Background
Coosa-North-Georgia_Waters-Creek_300x200.png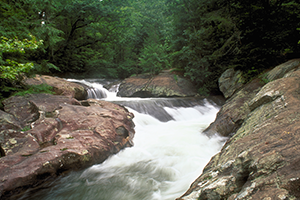 The Coosa North Georgia Regional Water Plan was first adopted by the Georgia Environmental Protection Division in September 2011. As required in the Water Planning Act (2008), the Regional Water Plans are required to be updated on a 5-year cycle and a revised plans were adopted in 2017 and 2023. The Plan is the product of the work of the Coosa North Georgia Regional Water Planning Council. The Regional Water Plan outlines strategies to meet water
needs through 2060 and fulfill the Council's vision and goals for the region. Major water resources in the region include the Coosa, Conasauga, Coosawattee, Etowah and Oostanaula River Basins, and the Crystalline rock and Paleozoic rock Aquifers.
Key Water Resource Issues Being Addressed by the Council
Groundwater resources in the region are generally limited; most of the water supply needs are met with surface water sources.
The region covers multiple river basins including the Chattahoochee,
Tennessee, and Coosa basins which can complicate water resource management.
Regional topography makes it a challenge to share resources and water supply infrastructure cost effectively.
Targeted water quality concerns in Lake Weiss, Lake Allatoona, Carters Lake and Lake Lanier.
Coordination with neighboring water councils to effectively management water resources by basin.
Improved implementation of Best Management Practices (BMPs) to address water conservation, wastewater management, and water quality across the region.
Coosa-North Georgia Region at a Glance - Related Files
Coosa-North Georgia Region at a Glance - Related Files