Middle Chattahoochee Region at a Glance
Background
Middle-Chatt_Columbus-Riverwalk_300x200.png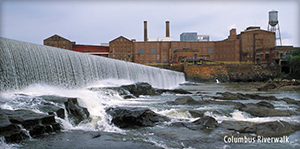 The Middle Chattahoochee Regional Water Plan wasfirst adopted in 2011, and a revised plan was adopted in 2017 and 2023. The Plan is the product of the work of the Middle Chattahoochee Regional Water Planning Council. The Regional Water Plan outlines strategies to meet water needs through 2060 and fulfill the Council's vision and goals for the water planning region. Major water resources in the water planning region include the Chattahoochee and Tallapoosa River Basins, Lakes West Point and Walter F. George, and the Cretaceous, Clayton, Claiborne, and Upper Floridan Aquifers.
Key Water Resource Issues Being Addressed by the Council
Water demand and supply management to address potential gaps in water availability.
Evaluation of changes in the operation of Chattahoochee Basin reservoirs to support higher lake levels and improved instream flows.
Coordination with neighboring water councils.
Improved implementation of Best Management Practices.
Targeted water quality concerns.
Middle Chattahoochee Region at a Glance - Related Files
Middle Chattahoochee Region at a Glance - Related Files